How much you can earn with the Brave Browser
For those who have not heard of Brave Browser, it is basically a browser that blocks ads, trackers and allows you to earn money for viewing ads. That's why it is called Basic Attention Token (BAT). It pays you for your "attention" to view ads.
Earn Money
How Much Can you Earn with Brave Browser?
1. What is Brave Browser?
It's been about 2 years since Brave Rewards first became available in Singapore. But how much can you really earn with these BAT tokens collected from Brave Browser?
On top of it, the Brave Browser is faster (3-6x), more secure, and safer. The ads are, minimal, and mostly, innovative and interesting websites. As we are digital marketer, we see this concept, in the case of crypto, ads, and browser technology, as a web revolution
2. How to Earn Money on Brave Browser?
In case of adviews, you can easily earn 3 BAT per month, We use the browser for 5 months now, and earn 20$, it depends on the course, cryptos are expanding massively, some of them, BAT change 100% + and more each month. I would say this is one of our passive income streams and you too can build one for yourself.
If you are a content creator (owns a website, YouTube channel or etc.), you can earn more from referrals & tips. So aswell on our Website, you can still earn money if you are willing to sell your "attention" to view the ads. Or you can tip your money, give us a tip, if you like our Website, thats the future, for content creators, and nonprofit websites, to get a tip, from your fans.
Users have the options to choose how many ads they want to receive per hour. The maximum right now is 5. But if you find it too spammy, you can reduce it to 1 or 2 and you receive fewer BAT tokens.
Alternatively, if you don't even want to receive ads but just want to enjoy the privacy and security feature, just turn off the "Brave Rewards" feature.
The payout date to your wallet will always be around the 6th of each month. 13 BAT would be know, about 20$ worth
3. How Much Can You Earn as a User?
Here is a summary of how many BAT tokens the creator of this article and screenshot (Here the Link, of the website, we capture this article from) have collected thus far. BAT is an ERC-20 token that is publicly traded on the exchange. The figures shown below are based on the closing price of the BAT token at the date of writing. (about US$0.32) as the article was written in August 2020, the course is now, more than 1,00$, so raised more than 240 %
The blue bar charts are what you can potentially earn from viewing ads as a regular user. How it works is an ad would pop up at the corner of your screen, click it, view it, and you get paid BAT tokens for your attention.
A new feature that recently just rolled out this year is what they called "Sponsored Images". Instead of having pop-up ads every hour, it can just be a big beautiful background image that appears on your tab page.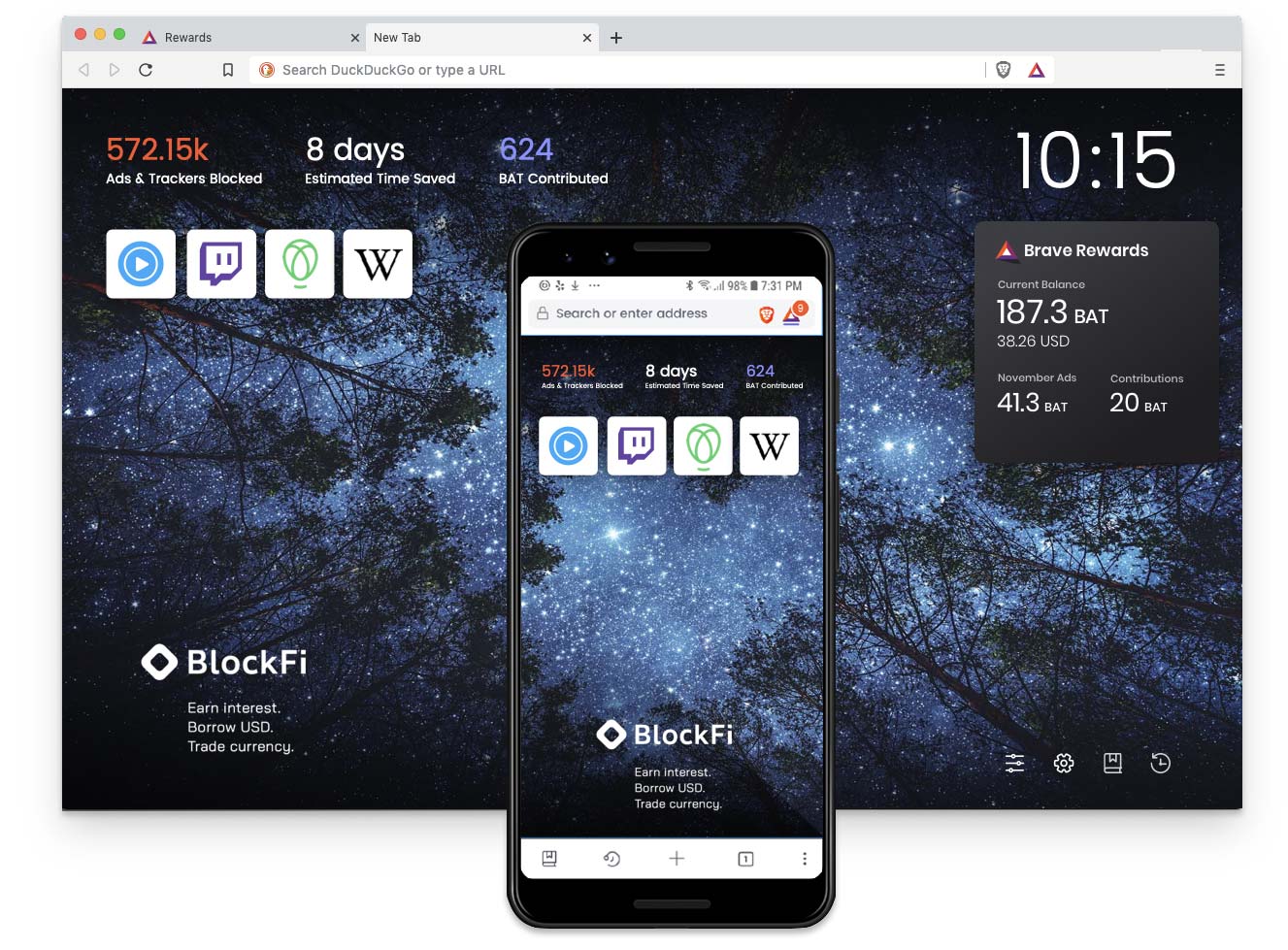 This is an example of how a sponsored image would look like. The advertiser, in this case, BlockFi, can just show their image on the user's new tab page. Then you get paid BAT tokens for viewing this image.
As of 2020 YTD, I have accumulated about US$30+ for clicking and viewing these ads. That is just from 1 user. You could imagine asking your partner/family members to do the same and multiply that by the number of users.
And also, that is just from 1 device, my desktop. Brave Browser is also available on Android/iOS. You can earn extra BAT tokens by viewing ads on your phone if that is where you spend more time on.
4. How Much Can You Earn as a Publisher?
The orange bar charts are what you can potentially earn as a content creator. As long as you own a website, YouTube channel, you belong to this category. If you are just a regular user, you can skip this part.
As a publisher, there are two ways you can receive BAT tokens.
First is by their creator referral program and second is through people tipping you.
As a user of Brave Browser, you can tip others with BAT tokens if you like their content. This tipping feature has already been integrated on websites, YouTube, Twitter, Reddit and even Github. That is how pervasive Brave Browser is expanding and this is just the beginning.
From time to time, I do have people tipping me some BAT tokens that they found it to be helpful or insightful. Special thanks to these people if you are one of them!
The third way a publisher can earn money is through publisher-integrated ads. This works exactly the same as how Google put ads on your site through Google AdSense. The difference is on how revenue is being shared. But you can be assured Google doesn't pay you a dime as a user.
For such ads on Brave Browser, 70% of the revenue would go to the content creator, 15% to the user who views or click that ad and the remaining 15% will go to Brave. So users do get paid not only from pop-up ads, sponsored images but also publisher-integrated ads in the future.
This feature is still currently in development and it has not been officially rolled out yet. But there is an option to test out the beta version now. It should be live soon by the end of this year.
5. Price Action of BAT Token
Unlike regular dividends that are denominated in dollars, the BAT tokens you received from viewing ads is a cryptocurrency token.
BAT is denominated in BTC and the value of BAT token fluctuates up and down. But BAT is less volatile compared to the thousands of altcoins in the crypto forest. You can see from the chart above. It doesn't swing wildly.
At the moment BAT is staying now, on 18.Apr 2021 $1.24
But generally, BAT is on a clear uptrend, we would say, the possibility to go in the next months, or, on more than 10$ is absolutely possible.
What this means for you is the same amount of BAT collected today has a higher chance to be worth more tomorrow. Though the reverse could play out also. Anything is possible in crypto.
Assuming that BAT token remains at a conservative price of US$1.24, you are looking at somewhere between US$50 – US$60 per annum when I prorate it.
To put things into context, that is approximately the amount of dividends you would receive with a capital of $1,500 at 5% yield. Except for Brave Browser, you don't have to spend any money, just your attention.
And also this is for 1 user and 1 device (desktop). I am excluding other factors like more advertisers coming onboard, higher frequency of ads and new ad features that Brave Browser is going to roll out in the future. The amount you can earn should be more as I am just being conservative here.
6. Summary
Brave Browser is one of the more successful and notable crypto projects when it comes to real user adoption, legitimacy, and utility.
As Brendan Eich mentioned, you would be surprised by how much a browser can actually do. It is not just a static page where people surf the net.
Brave Browser is changing the way we interact with browsers and the digital advertising industry is just one component of it. A trillion-dollar component.